"We gain strength, and courage, and confidence by each experience in which we really stop to look fear in the face... we must do that which we think we cannot." - Eleanor Roosevelt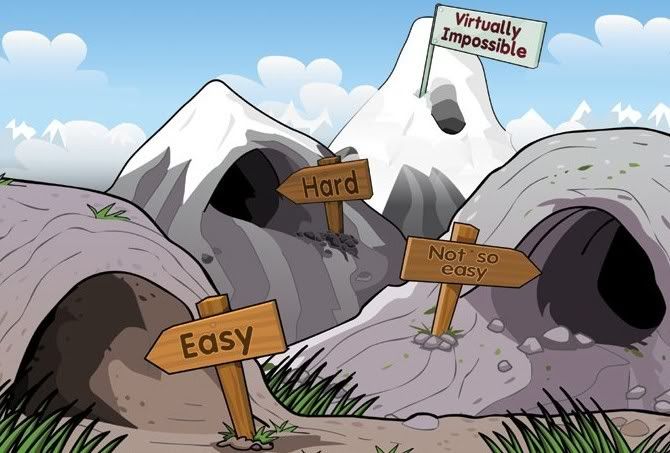 Learn To Do Hard Things
A
couple of teenagers
expanded on my motto for my classes and even
wrote a book about it
. Alas, having never met them before googling, I cannot take credit for the inspiration. ;D
At any rate, I know that life smacks everyone upside the head with challenges. Most of my students have already experienced this. I doubt that for any of them it will get easier as time goes by.
It's not enough simply to cheer them on, Rob Schneider style. (You know: "Yuu can DUU EET!") I am determined to help my students prepare to face their challenges, even though we don't know what challenges those will be. In addition to the language skills we study in class, we also learn about courage in facing the unfamiliar, perseverance when faced with setbacks, and finding new perspectives when up against a wall.
These character traits are ones that extend far beyond the classroom walls. Sooner or later, we all wind up
here
. I hope that my students - and I! - will be able to weather such situations with grace and dignity and move through them into the next adventure.
I was tagged by Ms. Ward, over at
Teacher Et cetera
, for this meme. Now, finally, I get to prove that I haven't forgotten all about it!
THE RULES:
- Post a picture or make/take/create your own that captures what YOU are most passionate for kids to learn about.
- Give your picture a short title.
- Title your blog post "Meme: Passion Quilt."
- Link back to this blog entry.
- Include links to 5 (or more) folks in your professional learning network.
I am tagging
loonyhiker
,
Richie
,
IB a Math Teacher
,
California Teacher Guy
, and
Athena
!